Ruum minu ihu jaoks
Une pièce pour mon corps
Space for my body
Anu Põder
18/05/2019 – 13/07/2019
"Ruum minu ihu jaoks Une pièce pour mon corps Space for my body" is the first monographic exhibition in France of the work of Estonian artist Anu Põder (1947–2013). Ruum minu ihu jaoks is the original Estonian title of a work dating from 1995: the juxtaposed French and English versions offer two more or less literal interpretations reflecting the fresh attention her oeuvre is now attracting.
Anu Põder began making sculptures and installations in the 1970s, but recognition was slow in coming, largely because she always – more or less deliberately – kept her distance from the mainstream art discourse in her home country: the Soviet sculpture of the 1980s and the post-Soviet Conceptualism of the 1990s. Over the last ten years, however, women art historians have brought feminist critical tools to bear on the interpretation of her work and are casting new light on the uniqueness of her perspective on the body and its structural constraints.
This exhibition focuses on works from the 1990s and later, with Põder's sculptural forms gradually fragmenting – notably via the cutting-up of fabric – into larger, more installation-like arrangements. Her unconventional use of such ephemeral materials as textiles, wax, plastic, soap, aluminium foil and food chimes with today's materiality-oriented practices in its embodiment of the sensual paradoxes of our post-industrial economy.
Curator: Barbara Sirieix
invited by Émilie Renard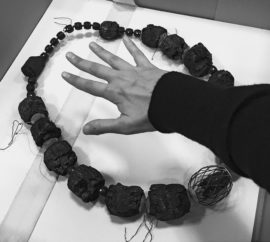 around the exhibition
01/06/2019

5 pm
Tour of the exhibition with curator Barbara Sirieix

29/06/2019

starting at 2 pm
Une pièce pour l'instant/A Quick Work: guest artists contribute to the exhibition (Laëtitia Badaut Haussmann and Jaanus Samma)

from 5 pm to 6:30 pm
Discussion between Barbara Sirieix and Rebeka Põldsam, independent curator and art critic from Estonia